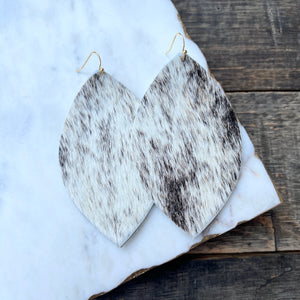 Note: Each pair will be unique due to the pattern of the cowhide. 

These fun statement leather earrings are incredibly lightweight. Set on 18K gold plated hooks, these measure 3.5" long. 
Leather earrings are always the right choice. These earrings are handmade in our small studio / brand store in Rolesville NC. All of the hardware that we use is hypoallergenic, and the earrings are all lightweight, making for a very easy wearing earring. Be Like Missy is proud to offer handmade jewelry. Our hand crafted earrings have become popular throughout the US and Caribbean due to their lightweight, easy wearing nature.