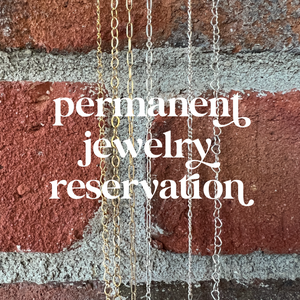 This is a non-refundable deposit to confirm your permanent jewelry appointment. The fee will be applied to your purchase of permanent jewelry at your scheduled appointment time. Each appointment slot can accommodate up to 4 people.
All appointments are scheduled at our brand store, Be Like Missy, located at 6134 Rogers Rd in Rolesville, NC.
If you are not able to keep your scheduled appointment, please contact me via email at belikemissy@gmail.com at least 12 hours prior to reschedule. If you do not show up to your scheduled appointment or reschedule on these terms, your deposit will be forfeited. You must reschedule your appointment within 14 days of the original appointment to avoid losing your deposit. 
ABOUT:
Be Like Missy also offers permanent jewelry at popup events as well as in our storefront in Rolesville NC - BY APPOINTMENT ONLY. If you need to book a different time not listed or further out please email belikemissy@gmail.com to schedule an appointment. 
Be Like Missy is excited to offer permanent jewelry to our Raleigh area customers! Are you searching for permanent jewelry in Raleigh? Follow us on social media for a comprehensive schedule of where / when we are offering permanent jewelry! 
What is permanent jewelry? We take a dainty chain and fit it to your body, and with a quick pulse of energy it is welded closed without a clasp. Be Like Missy currently offers both 14K gold filled permanent jewelry and sterling silver permanent jewelry. Permanent jewelry can be worn until you choose to take it off. 
PRICING:
Permanent Bracelet: $60 
Permanent Anklet: $75
Permanent Choker: $95
MATERIALS:
We offer permanent jewelry in both 14K gold filled and sterling silver chains. 
POLICIES:
While the jewelry is "permanently" placed on you, it is still made of a dainty chain, and as such you will need to treat it with care, just like any other dainty piece of jewelry. If your chain breaks, we can reattach it for you. If the piece breaks AT the weld site, we will re-weld the chain for free. If you break your piece at a different place, it is a $20 fee to re-weld the chain. 
Children aged 16+ are welcome to get permanent jewelry.